The Pink City Expressway Project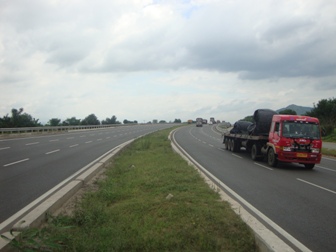 Project: Six laning of Gurgaon –Kotputli – Jaipur section of NH – 8 from KM 42.7 to km 273 (Length KM 225.6) in the state of Haryana and Rajasthan to be executed as BOT (toll) on DBFO pattern under NHDP Phase – V.
Client: National Highways Authority of India (NHAI)
Construction Period: 912 days from Appointed date (2.5 years)
Concession Period: 12 years from Appointed Date (Including Construction Period)
Date of Signing of Concession Agreement: June 06, 2008
Date of Signing of Supplementary Concession Agreement: Dec 20, 2013

GENERAL
The Project road passes through 2 states, namely Haryana and Rajasthan. Section in Haryana starts at km 42.7 and ends at km 107.18 and section of Rajasthan starts at km. 107.18 and ends at km 273.000. The total length of the project road is Km 225.600.
The project road passes through the districts of Gurgaon and Rewari in Haryana and through Alwar and Jaipur district in Rajasthan. The project road lies between latitude 26.55N to 28.37N and longitude 75.52E to 77.04E.
Project Location: The Project Index Maps and Project Location Map are given in Fig. below.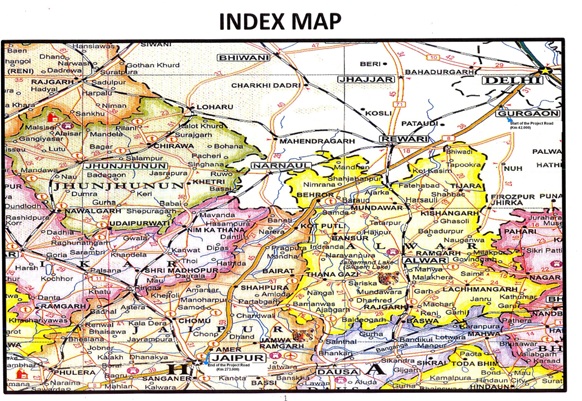 DESCRIPTION
Project is a section of NH-8 starting from Gurgaon km 42.7 and ending at km 273.00 including Jaipur bypass passing through Zone – D ( 34.5km length) and Zone – C (about 13.7 km long) .The road passes through the important towns of Manesar (km 48.0), Dharuhera (km 68.000) and Bawal (km 96.000) all important industrial hubs of the state of Haryana and through Behror (km.132), Kotputli (km. 155), Paota (km. 175), Shahpura (km. 200) and Manoharpura (Km. 211.5) in Rajasthan State. The total length of project road is 225.600 km.
The carriageway while going from Gurgaon to Jaipur is designated as left side carriageway and from Jaipur to Delhi side as right side carriageway.
The Right Side Carriageway in general is at lower elevation in all rural areas but in few areas the right side is at higher elevation than left side. Three Toll plazas exist in the section i.e., at Km 115.000, Shahjahanpur ,at Km 211.000, Manoharpur and at Km 241.000, Daulatpur.

Zone – D Bypass (34.5 Km long)
This part of the bypass has 11 underpasses, 2 Major Flyover at Chandwaji and at Harmada. All the structures are 6-Lane with 6-Lane approaches, Service roads exist mostly on one side with isolated stretches having both sides service road. Soil reinforced earth retaining wall approaches for there for Chandwaji. Flyover while approaches to major structures exist on RCC Retaining Walls which changes to RRM masonry retaining walls whenever height of embankment is generally < 3m. Embankments are protected with stone pitching with chute drainson both sides of carriageways. One Toll plaza exists at Km 241.000, Daulatpur.

Zone – C Bypass (13.7 Km long)
8 underpasses/ subways exist in Zone – C part of the bypass. Service roads of approximately 4m wide are present on both sides of carriageway. Stone pitching with chute drains on both sides exist to protect the embankment from erosion. A high tension line runs all along the right side of zone "C" part of the bypass.